Best Home Nursing Service in Pollachi and Best Patient Care Service in Pollachi
We also provide reliable and well experienced Nursing staff both male and female catering a wide variety of needs of our clients. Our nurses excel in attending our clients with their good patient care and hospitality services. Our nurses are provided time to time training on quality care and nursing acts. Our nurses offer vital home health care services to clients at home all over Tamil Nadu, Kerala and Karnataka.
Anbu Sri Sai Home Nursing Services engaged in providing qualified Patient Care Takers to clients. We ensure that the Patient Care Taker we place with clients have expertise in the domain & can efficiently take care of the patients. Being a sensitive job profile, we make certain that the Patient Care Takers selected by us are qualified and properly trained in all the aspects of day to day patient care.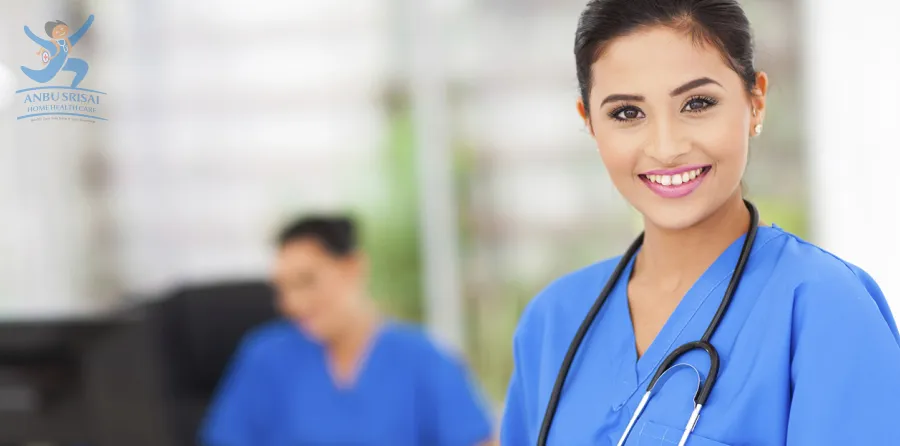 Skilled Nursing Care
Patients who come to us seek support and care to supplement their recovery following treatment regimens such that their transition to a normal life is successful. Our nurses are experienced, highly professional and empathetic skilled nursing care services in India remain unparalleled in terms of quality.
THE NEED FOR PATIENT CARE SERVICES
Leaving the hospital and restoring oneself into normal life requires meticulous effort and a lot of willpower. Any support and encouragement given to the patient at this stage shall positively impact on their quick recovery. Keeping this in mind, we bring to you our nursing care services in Tamil Nadu, Kerala and Karnataka renowned for results.
" We also provide qualified physiotherapists who help the patient during the recovery and rehabilitation process through physiotherapy treatment that suits their needs the best. "
WHAT SERVICES DO WE OFFER?
24×7 nursing services - Our nurses are constantly available on call and specially trained to deal with most complications and emergencies that can arise during their stay with us.
Experienced and Dedicated Nurses - Whether the patient is catheterized or requires assistance in feeding- or is recovering from accidental wounds or surgical incisions; our nursing care services in Bangalore are comprehensive. The nurses have knowledge on how to manage and care for patients who suffer from all kinds of ailments. The comfort and betterment of our patients are our first priority and all efforts are directed towards uplifting their quality of life.
Skilled Nurses for each Specialty - No matter which rehabilitation service is required by the patient- oncological, orthopaedical or neurological among others, speciality nurses are employed to offer respective services using their years of training and knowledge.
Emotional Support - A major part of our skilled nursing care services is the value we hold for the emotional enablement of the patient who is going through a very tough time- recovery isn't easy. Our nurses are empathetic and supportive- they try best to assess the emotional state of the patients and provide them with due attention and care to make them feel better and adapt to the situation
At Anbu Sri Sai Home Nursing Services, we understand the pain, lack of mobility and psychologically debilitating after-effects a patient can suffer after an orthopaedical injury or surgery. Our specialist orthopaedical care team can help to manage the patient's pain, improve stability, strengthen muscles and maintain balance and movement. Our in-home orthopaedical patient care services include personalized care depending on individual needs and as per the attending surgeon's protocols.
An in-home trained attendant service provides holistic support at home. Trained attendants, also known as caregivers, take care of the daily activities of a person in need. They help with personal grooming, movement, feeding, light housekeeping, and are also trained to monitor general health by regularly measuring essential vitals like heart rate, blood pressure, etc.
Basic personal care
Assisting with walking and transferring from bed to wheelchair
Bathing, dressing and grooming assistance
Medication reminders
Toileting and incontinence care
Status reporting to family
Safety and fall prevention
Lifestyle support?
Consultation and personalized care
Transportation to support the critical initial transition
Rehabilitation reminders, physical and emotional support
Transportation to rehabilitation sessions, doctor appointments
Errands, grocery shopping, prescription pick-up, housekeeping (nonobligatory)
Meal preparation and nutrition (nonobligatory)
Trained attendants for patient care services:
Our trained attendants provide care to those in need, in the comfort of their homes. They can help with personal grooming, feeding, mobility, oral medication, monitoring of vitals and more. As per your requirement, you can hire the services of a trained attendant for part-time or full-time.